Smoke Bitten Cover Reveal
Mercy Thompson Sticker Sheet Giveaway
July 17, 2019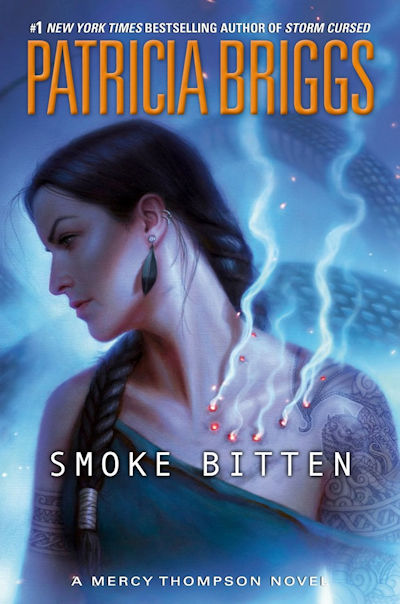 Mercy Thompson #12: Smoke Bitten will be released on March 17, 2020. We're thrilled to show you the cover which is another gorgeous piece created by artist Dan Dos Santos. If you haven't already been there go and visit The Art of Dan Dos Santos to see more of his portfolio. There's also a great article on Tor from 2013 where Irene Gallo interviews Dan: Embodying Patricia Briggs' Mercy Thompson In Person and In Paint
If you're interested in learning more about Dan's process and thoughts on art we highly recommend heading over to Muddy Colors: A Fantasy Art Community. This will link you to a series of blog posts by Dan and there are a few there where he talks more in depth about his work on the Mercy Thompson covers.
When you visit Dan's site be sure to head to his store where you can find all the Mercy Thompson cover prints for sale and Smoke Bitten is already on pre-order! If you want to meet Dan in person, he's the Official Guest of the Art Show at this year's Dragon Con. And he'll be at MisCon 2020 as Artist Guest of Honor. Patty will be at both of those cons as well! Check the news section on Dan's website to see if he's coming to another location near you!
---
To celebrate the cover reveal of Smoke Bitten we're doing a giveaway of 5 Mercy Thompson cover sticker sheets that were generously supplied by Dan Dos Santos. The giveaway has no location restrictions so if you're an international reader please feel free to enter.