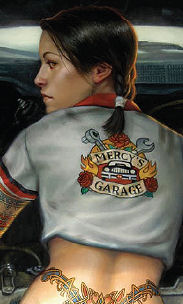 Once upon a time, a forum member suggested that we should build a "Mercy's Garage" shirt. . .
Since then, we've make quite a few shirts, and a few other trinkets. We want the readers to feel like they're sharing some fun with us, rather than being shaken down for loose change, so we're pricing the goods in this shop very near our production costs. We hope you have as much fun using it as we do making it!
Follow the links to your left to see what we've made!
Shipping:
We ship almost everything by priority mail. It's more secure, and vastly easier than running around town looking for packing materials all the time. We're a tiny company, so we generally ship once a week, usually on Fridays. Please be patient — we're sometimes a little slow!